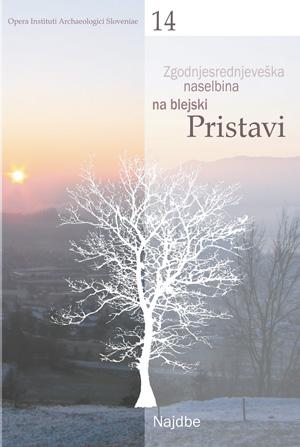 Zgodnjesrednjeveška naselbina na blejski Pristavi. Najdbe.
Frühmittelalterliche Siedlung Pristava in Bled. Funde.

Author: Andrej Pleterski
Year: 2008

Pristava in Bled belongs among those archaeological sites which, in the extent and inter-connectedness of the information they provide, represent a pattern in which numerous general processes are revealed. In solving the puzzle of Pristava, we are also to a great extent settling altogether the generally unresolved problems of the Eastern Alps in the Early Middle Ages. Firstly, a taphonomic analysis of the settlement is presented. This is followed by a classification of the earthenware and its absolute dating. In order to do this, a completely new dating procedure was developed. Although by no means simple, it has nevertheless proved to be both applicable and successful. It is now generally available and of assistance to all.
***
Pristava in Bled ist vielleicht die interessanteste Fundstelle im Ostalpenraum. Sie umfasst die gegenseitig stratigraphisch verflochtene Siedlung und das Gräberfeld. Im Ort begegneten sich die alteingesessenen Walchen und die neuangekommenen Slawen, die in den frühmittelalterlichen Bewohnern von Bled zusammenwuchsen. Diese doppelten Wurzeln sind in Gegenständen, Bestattungsarten und Hausformen ersichtlich. Das Buch stellt alle seit 1943 ausgegrabenen Siedlungsfunde vor und rekonstruiert slawische Brandgräber des 7. Jahrhunderts. Es entwickelt neue Methoden der taphonomischen Analyse, zeigt Gebäudereste und führt augenblicklich die größte Sammlung der frühmittelalterlichen Keramik in Slowenien vor.
***
Zgodnjesrednjeveška naselbina na blejski Pristavi. Tafonomija, predmeti in čas /
Frühmittelalterliche Siedlung Pristava in Bled. Taphonomie, Fundgegenstände und zeitliche Einordnung>
---
Author

Other authors

collaborators




translated by




illustrations by

Publishing House:

Založba ZRC

ISBN

978-961-254-072-2

Year

2008

Series

Specifications

hardback 21 × 29,5 cm 276 pages 52 colour and 140 b-w drawings, photos and charts, 39 plates

E-publications

05. 12. 2019

Permalink