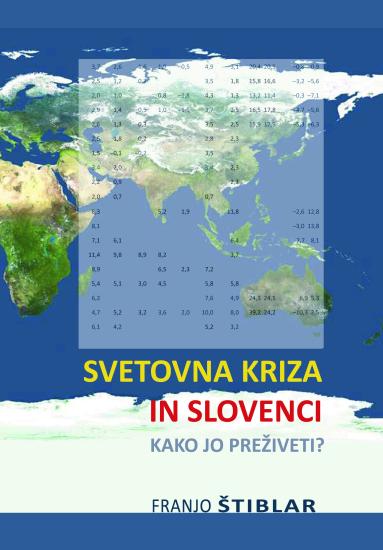 Svetovna kriza in Slovenci. Kako jo preživeti?
Author: Franjo Štiblar
Year: 2008

The goal of book is to make known to Slovenians and other people the impact of arriving global financial crisis of 2008 and which are the best ways to overcome it with the least possible negative consequences. In introduction the world and domestic economic situation in 2008 is described and explored the question why the truth about crisis was kept secret. The first part speaks about the contribution of economic science and its neoliberal proponents to the emergence of crisis. Second part describes the incurrence of crisis by the bursting of subprime loan bubble in the USA and its spread around the world, the effect of crisis and the possible solutions to it. The third part speaks about the impact of global financial crisis on Slovenia and proposes specific measures to moderate its negative effect for government, enterprise and financial sector as well as individuals. The concluding part deals with global ideas to solve not only current crisis, but also to prevent the occurrence of such crisis in the future.
---
Author

Publishing House:

Založba ZRC

Publisher

ISBN

978-961-254-100-2

Year

2008

Language(s)

Specifications

paperback 16,5 × 23,5 cm 216 pages

E-publications

Permalink