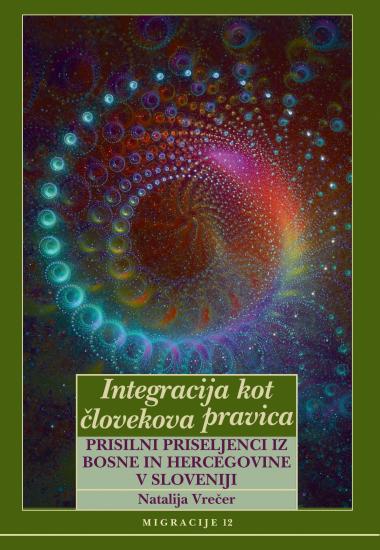 Integracija kot človekova pravica. Prisilni priseljenci iz Bosne in Hercegovine v Sloveniji.

Author: Natalija Vrečer
Year: 2007

The book Integracija kot človekova pravica (Integration as a human right) is an anthropological analysis and interpretation of integration processes of forced migrants from Bosnia-Herzegovina in Slovenia. According to the author, a comprehensive approach is a precondition for understanding integration, therefore she writes about economic, political, socio-cultural integration (education, health, religious integration), psychological integration, as well as about ethnic integration and integration of gender. Economic integration represents a precondition of all other integrations, because the employment enables forced migrants to incorporate into the socio-cultural system of a society on equal footing. The author complements the theories of forced migration with theories of economic migrants: theories of competitive relations, transnational theories and multiculturalism.
The book is the result of 14 years of anthropological fieldwork among forced migrants from Bosnia-Herzegovina in Slovenia. The chapter on reintegration of forced migrants is also based on the results of short-term fieldwork in Sarajevo. The methods applied are ethnographic method and comparative analysis. Due to the fact that the book discusses integration, which became one of the most emphasized topics in the new millennium, the potential readers of the book are researchers in the fields of the humanities and social sciences. The book is also interesting for the state officials who are in charge of the so-called integration strategies and migration policies and for the wider public as it deals with the topic of persons with temporary asylum in Slovenia in a thorough way. The book is an original contribution to the forced migration studies; its quality is a long-term fieldwork and theoretical reflection. According to the reviewer dr. Irena Šumi the book is an original scientific work that surpasses all domestic professional production on the topic due to its thorough approach and clarity of starting positions. The book also contributes to the development of the discipline abroad as it analyses the integration processes of forced migrants in Slovenia. Namely, in the new millennium researchers started to pay increasing attention to the research on integration, but dr. Natalija Vrečer had already started to examine integration in the nineties of the previous century.
---
Author

Publishing Houses:

Založba ZRC, Andragoški center RS

ISBN

978-961-6568-97-5

Year

2007

Series

Migracije 12

Language(s)

Specifications

paperback 17 × 24 cm 152 pages

E-publications

Permalink