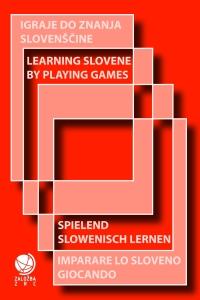 Igraje do znanja slovenščine [prvi natis].
Learning Slovene by Playing Games.
Spielend Slowenisch lernen.
Imparare lo sloveno giocando.
Author: Rada Lečič
Publishing House: Založba ZRC
Year: 2006

This supplement for the manual Slovene Verb consists of 51 cards for exercising and repeating Slovene grammar. The cards can be used by anyone, who is familiar with basic grammar of Slovene language. On the back side of the cards there are solutions: that makes them adequate as well as to work in pairs or groups.
---
Author

Other authors

illustrations by

Tamara Korošec

Publishing House

Založba ZRC

Publisher

ISBN

961-6568-80-9

Year

2006

Language(s)

Specifications

box 6 × 9 cm 51 cards

Versions

Permalink