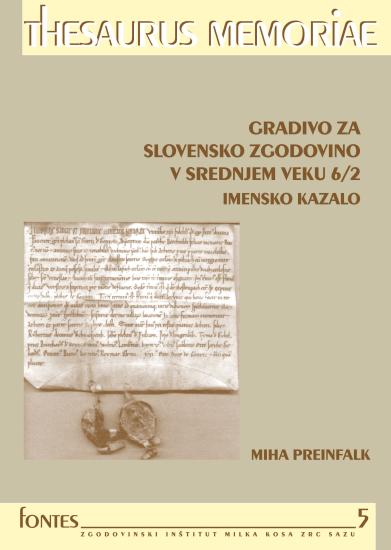 Gradivo za slovensko zgodovino v srednjem veku 6/2. Imensko kazalo.

Author: Miha Preinfalk
Year: 2007

Publishing medieval charters for Slovenian history is a long-term effort. The first four volumes were still published in the days of the pioneer of the project, Franc Kos (in the period 1902–1915), with the fifth book, published by his son Milko Kos, following somewhat later on. It was only in 2002 that France Baraga published, on the basis of the collected materials, the Central Catalogue of Medieval Charters of Dr. Božo Otorepec from the Milko Kos Historical Institute of ZRC SAZU, the sixth volume of medieval charters encompassing a relatively short period of ten years, 1246–1255. The volume appeared without an index of names, the publication of which has been postponed until today.
This book therefore contains an accurate explanatory index of personal and place names, thus completing Baraga's edition of 295 medieval charters.
The book comes with a CD Gradivo za slovensko zgodovino v srednjem veku. 6/1 – Listine 1246–1255. 6/2 – Imensko kazalo [Materials for Slovenian Medieval History. 6/1 – Charters 1246 – 1255. 6/2 – Index of names] and both books in pdf-format.
---
Author

Publishing House:

Založba ZRC

Co-publishers

Arhiv Republike Slovenije

ISBN

978-961-6568-98-2

Year

2007

Series

Thesaurus memoriae Fontes 5

Specifications

hardback 20 × 28 cm 90 pages CD-ROM

E-publications

23. 12. 2020

Permalink