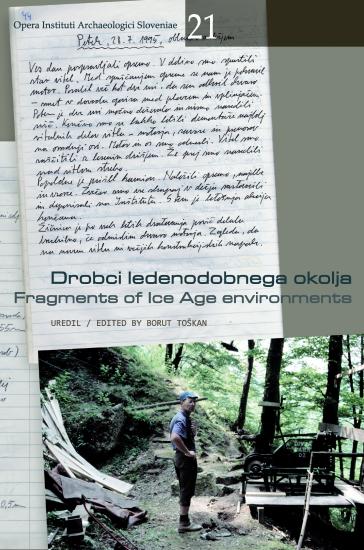 Drobci ledenodobnega okolja. Zbornik ob življenjskem jubileju Ivana Turka.
Fragments of Ice Age Environments. Proceedings in honour of Ivan Turk's jubilee.

Edited by: Borut Toškan
Year: 2011

The monograph Drobci ledenodobnega okolja ("Fragments of Ice Age environments") presents a compilation of seventeen chapters in which experts from different scientific fields discuss specific topics related to the Ice Age in Europe. Ten of them are devoted to the presentation, analysis and interpretation of palaeontological data concerning various large mammal species ranging from mastodon and mammoth to the cave hyena, ibex, cave lion and bears, with the emphasis being placed on the cave bear. Several chapters address the topic of Last Glacial climatic conditions in the Southeastern Alps by studying fossil micromammal and palaeobotanical remains as well as geoarchaeologiocal data. A special article is devoted to a comprehensive review of previous analysis of the bone flute from Divje babe I, but includes also new musicological research findings on the extraordinary technical capabilities of this oldest musical instrument. The concluding chapter presents a study of old manuscripts and printed sources, providing some interesting insights into the discovery of one of the most significant palaeontological sites in Slovenia - the cave of Mokriška jama.
The monograph is dedicated to the anniversary of the prominent researcher of the Slovenian Palaeolithic - Ivan Turk. His work, main achievements and selected bibliography are briefly presented in the introductory chapter.
---
Edited by

Other authors

individual contributions

Maja Andrič

,

Kerstin Athen

,

Giovanni Boschian

,

Dragan Božič

,

Metka Culiberg

,

Cajus G. Diedrich

,

Vesna Dimitrijević

,

Ljuben Dimkaroski

,

Janez Dirjec

,

Daniel Fernández-Mosquera

,

Aurora Grandal-d'Anglade

,

Goran Gužvica

,

Đuro Huber

,

Vasja Mikuž

,

Preston T. Miracle

,

Martina Pacher

,

Jernej Pavšič

,

Marta Pérez-Rama

,

Annamaria De Santis

,

Borut Toškan

,

Janez Turk

,

Matija Turk

,

Anton Velušček




translated by




illustrations by

Publishing House:

Založba ZRC

ISBN

978-961-254-257-3

Year

2011

Series

Specifications

hardback 20 × 29 cm 280 pages 44 b-w photographs, 10 drawings, 52 tables, 71 graphs and 9 maps

E-publications

05. 12. 2019

Permalink