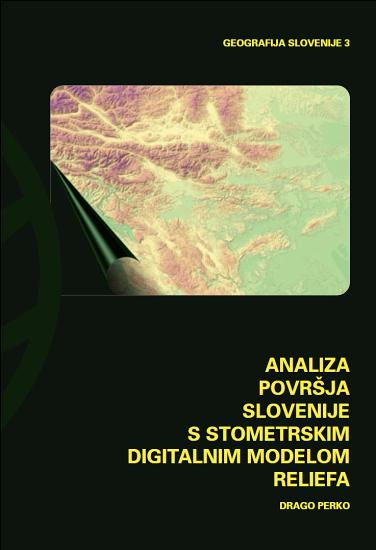 Analiza površja Slovenije s stometrskim digitalnim modelom reliefa.
Author: Drago Perko
Year: 2001

In the introductory chapter, the author explains the term "digital elevation model"; outlines the features of the 100-meter digital elevation model of Slovenia; presents relief as a component part of the landscape, the geographic information system, and maps; derives a special coefficient for surface undulation based on changes in altitude and inclination; describes the method for determining relationships between relief and other components of the landscape; and outlines the basic characteristics of the surface of Slovenia.
The central chapters are devoted to presenting the characteristics of altitude, inclination, and surface exposition determined by the author using the 100-meter digital elevation model. On the basis of an analysis of numerous relief elements, primarily altitude, inclination, and relief coefficients, the author defines the relief units of Slovenia and calculates the relationship between relief and several other landscape elements, in particular rocks, vegetation, population, and settlement patterns.
---
Author

Publishing House:

Založba ZRC

Publisher

ISBN

961-6182-94-3

Year

2001

Series

Language(s)

Specifications

hardback 17 × 24 cm 229 pages 103 colour pictures, 35 plates

E-publications

05. 12. 2019

Permalink