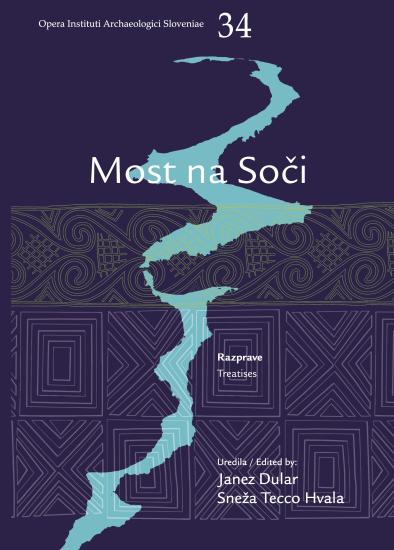 Železnodobno naselje Most na Soči. Razprave.
The Iron Age Settlement at Most na Soči. Treatises.

Edited by: Janez Dular, Sneža Tecco Hvala
Year: 2018

The second volume on the Iron Age settlement at Most na Soči evaluates from various aspects the structures and small finds that has been presented in the first book.
The first section of the book opens with the chronology of the settlement and the architecture in Posočje. The following chapter present the small finds. These include metal artefacts that mainly consist of jewellery, but also tools and other objects that the inhabitants of Most na Soči used in their everyday activities. Pottery is also numerously represented and presented here as to the composition of the fabrics, the typology of forms and their chronological spans.
The second section presents the analyses of some of the raw materials that the artisans used in their work: clay temper, bronze, iron and stone. The results reveal their composition and the origin of the raw materials, which is significant as there are no major ore deposits in the area of Most na Soči.
The third section presents the organic remains. Firstly, there are the remains of the structural wood used in house construction. The settlement also yielded crop plants, mainly cereals, but also fruit that they either gathered locally or imported from areas with a warmer climate. A special study presents the scarce remains of textile. This section is rounded off with the discussion on the remains of animals that were reared and consumed in this part of Posočje during the Iron Age.
The results and findings of these expertises are brought together in the introductory study that also provides a broader cultural and historical context of the site and underlines its place among the most important centres of the south-eastern Alpine Hallstatt culture.
***
Železnodobno naselje Most na Soči. Gradbeni izvidi in najdbe / The Iron Age Settlement at Most na Soči. Settlement Structures and Small Finds
Most na Soči. Arheološke raziskave v letih 2000–2016 na levem bregu Idrijce / The 2000–2016 archaeological investigations on the left bank of the Idrijca
---
Edited by

Other authors

individual contributions

Publishing House:

Založba ZRC

ISBN

978-961-05-0108-4

Year

2018

Series

Specifications

hardback 20 × 29 cm 512 pages 190 photographs, plans and drawings, 86 tables and graphs

E-publications

08. 02. 2020

Permalink