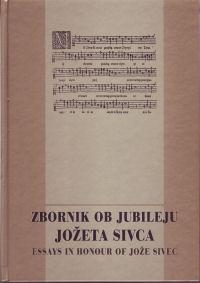 Zbornik ob jubileju Jožeta Sivca.
Essays Presented to Jože Sivec.
Edited by: Darja Frelih, Jurij Snoj
Year: 2000

Collection of essays in honour of Professor Jože Sivec. It includes the articles of the following contributors:, Matjaž Barbo, Katarina Bedina, Marija Bergamo, Cvetko Budković, Bojan Bujić, Nataša Cigoj Krstulović, Tomaž Faganel, Darja Frelih, Vjera Katalinić, Ivan Klemenčič, Metoda Kokole, Koraljka Kos, Zmaga Kumer, Primož Kuret, Borut Loparnik, Danilo Pokorn, Dujka Smoje, Marijan Smolik, Jurij Snoj, Leon Stefanija, Edo Škulj, Stanislav Tuksar.
---
Edited by

Publishing House:

Založba ZRC

Co-publisher

Slovensko muzikološko društvo

ISBN

961-6182-98-6

Year

2000

Specifications

hardback 17,5 × 24,5 cm 316 pages

Permalink