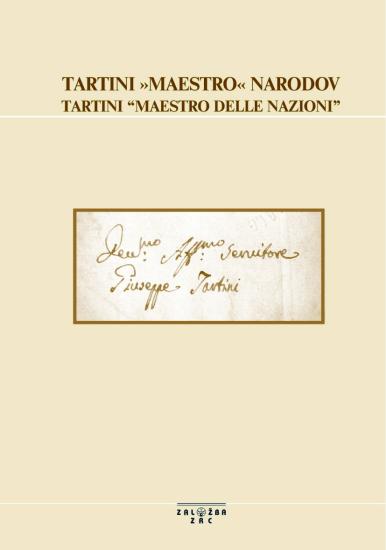 Tartini »maestro« narodov in kulturno življenje v obalnih mestih današnje Slovenije med 16. in 18. stoletjem. Zbornik referatov z mednarodnega simpozija 7. in 8. aprila 2001 v Piranu.
Tartini "maestro delle nazioni" e la vita culturale delle cittadine del Litorale tra i secoli XVI e XVIII. Atti del convegno internazionale del 7 e 8 aprile 2001 in Pirano.

Edited by: Metoda Kokole
Year: 2002

Proceedings of the international conference held in Piran in 2001, and organized by the Institute of Musicology. Included are the articles of the following contributors: Luisa Antoni, Enrico Careri, Luca Del Fra, Marc Desmet, Giovanni Guanti, Darja Mihelič, Pierluigi Petrobelli, Vanessa Ruggeri, Helena Seražin.
---
Edited by

Publishing House:

Založba ZRC

Publisher

ISBN

961-6358-56-1

Year

2002

Specifications

paperback 17 × 24 cm 140 pages

E-publications

Permalink