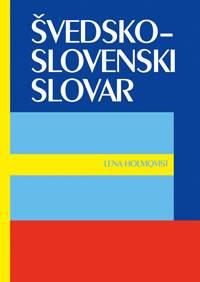 Švedsko-slovenski slovar.
Svensk-slovensk ordbok.
Author: Lena Holmqvist
Publishing House: Založba ZRC
Year: 2004

The dictionary contains more than 23,000 entries, which are mainly selected on the basis of frequency. One of main principles while composing the dictionary was to incorporate phrases as much as possible, and to present the vividness of both languages by listing concrete examples of using particular word.
Since March 2014 free-access electronic version of the dictionary is available via the web portal Termania.
---
Author

Publishing House

Založba ZRC

Publisher

Co-publishers

Slovenska akademija znanosti in umetnosti; Kungliga Vitterhets Historie och Antikvitets Akademien

ISBN

961-6500-24-4

Year

2004

Specifications

hardback, jacket 17,5 × 24,5 cm 302 pages

E-publications

Database Termania (2014)
ISBN 978-961-254-684-7 (ZRC SAZU),</br>ISBN 978-961-6474-27-6 (Amebis)

Permalink