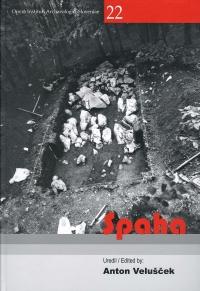 Spaha.
Edited by: Anton Velušček
Publishing House: Založba ZRC
Year: 2011

In the collected papers the results of the research on hilltop settlement Spaha above Brezovica pri Predgradu are introduced. The site was excavated by Greta Hirschbäck-Merhar during the years 1979 and 1984. Spaha was settled in the period of Sava group, Lasinja culture, horizon of pottery with furrowed incisions, and probably also in the period of Urnfield culture. In the 16th century on the top of Spaha a watchtower was erected, from which the local community was being informed about the arrivals of plundering hordes of Turks. The reasons for the settling the top of the hill are searched in the appearance of first copper ore prospectors in this part of Europe and in the vicinity of deposits of raw material used for querns which were most probably used by agriculture communities of nearby Bela krajina. In the monograph are presented the relative and absolute chronologies of the Neolithic and earlier Eneolithic period of continental Slovenia.
---
Edited by

Other authors

individual contributions

Antonio Alberti

,

Federico Bernardini

,

Gabriella Demarchi

,

Pavel Jamnik

,

Angelo De Min

,

Emanuela Montagnari-Kokelj

,

Maruska Di Remigio

,

Borut Toškan

,

Janez Turk

,

Matija Turk

,

Anton Velušček




translated by

Maja Sužnik

illustrations by

Mateja Belak

,

Tamara Korošec

,

Lucija Lavrenčič

Publishing House

Založba ZRC

Publisher

ISBN

978-961-254-290-0

Year

2011

Compilation

Specifications

hardback 20 × 29 cm 296 pages 88 b-w and colour photos, drawings and charts, 31 tables, 27 graphs and 42 plates

E-publications

2019-12-05

Permalink