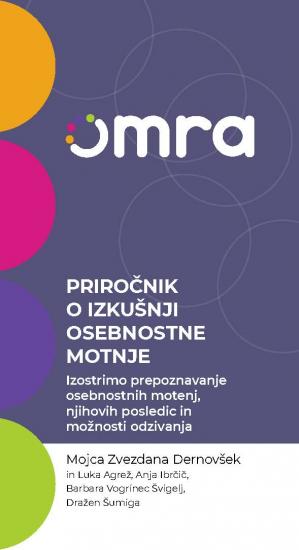 Priročnik o izkušnji osebnostne motnje. Izostrimo prepoznavanje osebnostnih motenj, njihovih posledic in možnosti odzivanja.

Author: Mojca Zvezdana Dernovšek
Year: 2021

When we talk about personality disorders, people usually have a very emotional reaction, with pain and unpleasant emotions being the most common. Those who have a relationship with a person who has a personality disorder, usually do not know what they are facing, but they do experience feelings of unease, despair, sadness, anger and depression, while doubting their own experience and perception of the world. Family and friends often feel like they are "caught in a relationship web", which keeps getting more and more tangled, instead of untangling. Personality disorders cause everyone a lot of suffering, anger and disappointment, manifesting in every dimension of the human experience, but the behavior of a person with a personality disorder and the responses from the environment are actually a lot more predictable than you might imagine. In order to present this demanding and little-known topic to the widest range of readers, the handbook uses stories of everyday people to illustrate how their experiences of personality disorders intertwine with stress, mood disorders and problems with addiction. It also presents the process of identifying individual personality disorders and various options of self-help and recovery. The handbook is intended for anyone who is interested in the field of personality disorders, is personally facing mental health problems, or has a relative who is dealing with these issues.
---
Author

Other authors

collaborators

Publishing House:

Založba ZRC

ISBN

978-961-05-0493-1

Year

2021

Language(s)

Specifications

paperback 10 × 18 cm 85 pages

E-publications

19. 01. 2021

Permalink