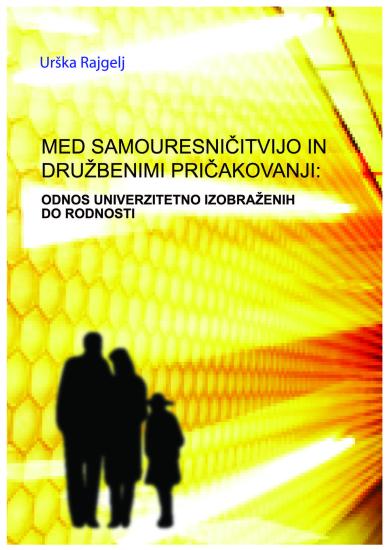 Med samouresničitvijo in družbenimi pričakovanji. Odnos univerzitetno izobraženih do rodnosti.

Author: Urška Rajgelj
Year: 2008

The monograph (Between Self-Fulfillment and Social Expectations: The Attitude of the University-Educated Towards Fertility) considers a wider social background of reproductive decisions in university-educated people stemming from the evidence about the lowest birth rates among the university-educated population. This is a sociological study despite the examination of two established approaches in studying the relationship between education and fertility within the economic theories of fertility behaviour. The monograph considers some major results of sociological, anthropological and other qualitative studies which have importantly upgraded conclusions of extensive demographic surveys on this relationship.
Therefore, the first part of the book reviews various theories and approaches that consider education as an important indicator of fertility behaviour. The review shows that the majority of such studies focus on women only. This qualitatively designed empirical study, however, discusses broader aspects of the education-fertility relationship, including selected collocutors of both genders, their personal networks and daily engagement in various social roles. The principal finding shows that women's education does not sufficiently explain fertility decisions. As a rule, these decisions are an outcome of a constant re-negotiation between partners; particularly the decision for a second child is strongly influenced by their experience with the firstborn. The study also shows that collocutors' parents indirectly affect their fertility decisions by giving them various forms of daily support. Identified are also the obstacles for fertility decisions mostly in the collocutors' experiencing of negative feelings, like such as being overloaded by daily roles, racing against time and feelings of guilt, as well as their distrust in the state and its institutions in establishing favourable circumstances for fertility decisions. The main conclusion emphasizes that the more diversified life courses of individuals require more flexible arrangements and alternative choices for parents. Parents wish for both work and family, and not only one or the other.
---
Author

Publishing House:

Založba ZRC

ISBN

978-961-254-092-0

Year

2008

Language(s)

Specifications

internet publication pdf 174 pages

E-publications

05. 12. 2019

Permalink