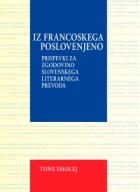 Title:
Author:
Year:
Compilation:
Keywords:
Language(s):
Description
The book contains a series of chapters on literary translation from French into Slovene, especially in the nineteenth century and in the first decades of the twentieth century. Through the comparatist approach, the author demonstrates what importance translations of French literary texts had for Slovene literature, proving at the same time that translational relations are to be taken into account also when studying individual national literatures.
Table of content
Predgovor
»Vsahnjena magnoljna cvetlica«.
Zgodnja prevoda Chateaubriandove Atale.
»Jako ganljiva in stresajoča povest.«
Pavel in Virginija Bernardina de Saint-Pierra na Slovenskem
Od mitinga k taboru. Hostnikovo prevajanje Julesa Verna
»Francoz in jaz – enak ukus.«
Kržišnikov prevod Nodierovega Jeana Sbogarja
»Mon Dieu, gospod marki.«
Juvančičev prevod Molièrovih Smešnih precioz
»Neizmerna usluga univerzalni kulturi.«
Debeljakova antologija Moderna francoska lirika
»Pod žalostnim nebesnim obokom«.
Karlinov prevod Baudelairovih Pesmi v prozi
»Zazri se v nas: pet, šest nas tu visi.«
Recepcija Villonovega Epitafa na Slovenskem
»Sine ira et studio«. Borkova prevajalska poetika in prevod Balzacovega Polkovnika Chaberta
Oaza moderne evropske literature.
Grabnarjeva antologija Potovanje po Veliki Garabaniji
»Za to potovanje si se odločil zelo nenadoma«. Prva slovenska srečanja z Michelom Butorjem in njegovo Modifikacijo
»Ne bom vzdihoval kot Ovid, iz toplega raja pregnan.«
Podobje v Udovičevih prevodih Baudelaira
Človeška država, podobna klijočemu travniku.
Kovičev prevod Éluardove poezijev luči kritike
Povzetek
Resumé
Biografski podatki o obravnavanih prevajalcih
Viri in literatura
Imensko kazalo
Publishing House
Založba ZRC
Co-publisher
Društvo slovenskih književnih prevajalcev
ISBN
978-961-254-085-2
Specifications
paperback • 14,5 × 21 cm • 212 pages
Price
14,50 EUR (Regular)
11,00 EUR (Club)