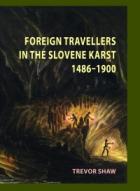 Title:
Author:
Year:
Keywords:
Language(s):
Description
This book is a new, reviewed, updated, and expanded edition of the book Foreign Travellers in the Slovene Karst 1537–1900 that was published in 2000 and was soon sold out. The author, who for the new edition has added documented descriptions of travels around Slovenia's Kras region toward the end of the 15th century, a good fifty years earlier than in the first edition, set himself the task of collecting and presenting original descriptions of Slovenia's caves and karst features as they were experienced and recorded by foreign travellers in Slovenia during several past centuries. The book contains descriptions by 128 travellers published mostly in little known publications and includes several that were newly discovered in manuscript collections. They are of special interest for historical research and learning about Slovenia's karst and for the history of Slovenia in general.
Table of content
PREFACE
ACKNOWLEDGEMENTS
INTRODUCTION
TRAVELLING IN THE SLOVENE LANDS
CAVES AND OTHER KARST SITES
THE TRAVELLERS' DESCRIPTIONS
APPENDIX I – EQUIVALENT PLACE-NAMES
APPENDIX II – UNITS OF MEASUREMENT : CONVERSION FACTORS
NOTES AND REFERENCES
TABLES 1–5
POVZETEK
INDEX
More ...
Dénes György: Foreign Travellers in the Slovene Karst 1486-1900; Karszt és Barlang
Hubert Trimmel: Trevor Shaw, Foreign Travellers in the Slovene Karst 1486 – 1900; Die Höhle 60 (1-4) (2009)
Vlado Božić: Trevor Shaw: Foreign Travellers in the Slovene Karst 1486. – 1900.; Speleolog 56 (2008)
Pino Guidi: Visitatori stranieri nelle grotte di Slovenia; Speleologia 59 (2008)
Christophe Gauchon: Foreign travellers in the Slovene Karst 1486 – 1900; Karstologia 52 (2008)
Publishing House
Založba ZRC
ISBN
978-961-254-065-4
Specifications
paperback • 20 × 27 cm • 338 pages