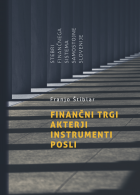 Title:
Author:
Year:
Keywords:
Language(s):
Description
The book represents the last part of trilogy about Slovenian financial system, the first two covering Insurance (2008, together with Filip Šramel) and Banking (2010). The book describes the role of different financial actors as subjects on financial markets, which make financial deals with the instruments as objects. Historical and theoretical framework is given at the beginning, followed by the chronology of development of financial system of independent Slovenia in normative and practical form. Positive and negative characteristics of current financial system are discussed in extenso. Next, the present morphology of Slovenian financial system is presented with all actors and institutions identified in detail. In the last part of book the strategy of future development of financial system in Slovenia in post-crisis period, related to general development of financial system in the whole world.
Table of content
SEZNAM PREGLEDNIC, SHEM IN GRAFOV
LEGENDA POMEMBNEJŠIH KRATIC
PREDGOVOR
I. del: Okviri
I.1 TEORETIČNI OKVIR
I.2 ZGODOVINA SLOVENSKEGA FINANČNEGA SISTEMA
II. del: Razvoj finančnega sistema v samostojnosti
II.3 RAZVOJ NORM
II.4 KLJUČNI MEJNIKI V RAZVOJU
II.5 RAZVOJ AKTERJEV SLOVENSKEGA FINANČNEGA SISTEMA
III. del: Stanje slovenskem finančnem sistemu danes
III.6 AGREGATNI PREGLED STANJA V SLOVENSKEM FINANČNEM SISTEMU
III.7 MORFOLOGIJA FINANČNEGA SEKTORJA SLOVENIJE
III.8 MEDNARODNI VIDIK
IV. del: Pogled naprej
IV.9 VSEBINSKA IN EKONOMETRIČNA ANALIZA STANJA
V FINANČNEM SISTEMU SLOVENIJE
IV.10 NAPOVED, STRATEGIJA IN PRIPOROČILA
LITERATURA
RAZŠIRJENO KAZALO
More ...
Irena Ferluga: Nova finančna arhitektura sveta; Večer, 4.1.2014
Publishing House
Založba ZRC
ISBN
978-961-254-661-8
Specifications
hardback • 17 × 23,5 cm • 400 pages
Price
45,00 EUR (Regular)
40,00 EUR (Club)