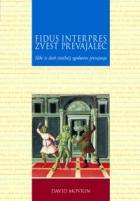 Title:
Author:
Year:
Compilation:
Keywords:
Language(s):
Description
The book offers a synthetic survey of the fundamental translation-related dichotomy, i.e. the opposition between »faithful« and »free translation«, which has characterized the reflection on translation for over two millennia. The two allegedly contrasting approaches are traced through the history of translation in Europe, whereby four core periods are identified in which either one or the other approach was generally preferred. The book also contains the Slovene translations of some primary sources by authors such as Pliny the Younger, St. Jerome and Erasmus of Rotterdam, which are relevant to the discussion on faithful and free translation.
Table of content
TEORIJA IN ZGODOVINA
Razumevanje zvestobe
RIMSKA TEKMOVALNOST
Aemulatio
Dvojezično stičišče gramatike in retorike
Arhaična doba
Klasična doba
Kasnejši razvoj
Prevajalski problemi in njihove rešitve
Osvajali, ko so prevajali
KRŠČANSKA SPOŠTLJIVOST
Vzroki za večjo dobesednost
Sveti Hieronim
Sveti Avguštin
Burgundijon iz Pise
Erazem Rotterdamski
Pierre Daniel Huet
Prevajanje kot askeza
KLASICISTIČNA SAMOZAVEST
Nicolas Perrot d'Ablancourt
Anne Dacier
Angleške vzporednice
Pravzaprav zvestejši smislu izvirnika
ROMANTIČNO HREPENENJE PO TUJEM
Prevajalski obrat od Vossa do Hölderlina
Rojstvo prevajalske teorije
Videti avtorja, kakršen je
OD ZVESTOBE K PREVEDLJIVOSTI
BERILO
Plinij mlajši: Pismo o koristnosti prevajanja
Sveti Hieronim: Pismo o najboljši vrsti prevajanja
Burgundijon iz Pise: O nuji dobesednega prevajanja
Erazem Rotterdamski: Pismo o prevajanju Nove zaveze
Nicolas Perrot d'Ablancourt: Posvetilo k nezvesti lepotici
Johann Wolfgang von Goethe: O prevodih
Ulrich von Wilamowitz-Moellendorff: Kaj je prevajanje?
Povzetek / Abstract
Bibliografija
Imensko kazalo
More ...
Marko Golja; Izšlo je, Radio Slovenija 3. program 27.1.2011 ob 17.00 uri
Publishing Houses
Založba ZRC • Znanstvena založba Filozofske fakultete Univerze v Ljubljani
Co-publisher
Društvo slovenskih književnih prevajalcev
ISBN
978-961-254-180-4 (ZRC SAZU)
Specifications
paperback • 14,5 × 21 cm • 316 pages
Price
19,50 EUR (Regular)
16,50 EUR (Club)