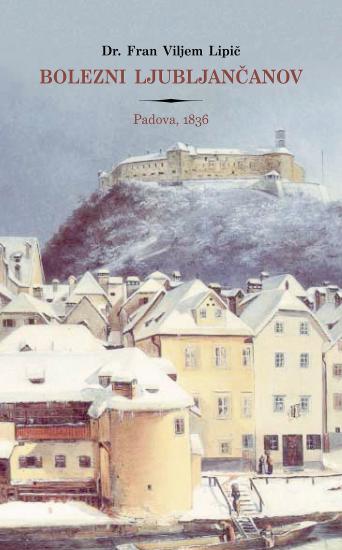 Bolezni Ljubljančanov, ki jih je leta 1828 opazoval Fran Viljem Lipič, doktor medicine, poprej zdravnik ordinarij mesta Ljubljana, sedaj na univerzi v Padovi redni profesor medicinske prakse
Author: Fran Viljem Lipič
Year: 2007

Diseases have long earned the attention of other professions in addition to doctors: natural historians, historians, philosophers and other intellectuals. Illness effects people in very varied ways; their feelings and working capacities, their state of mind and attitude to others. In this work, Dr. Lipič catalogues the patients that he treated in 1828. The book is arranged chronologically by months and seasons. At that time, the young Doctor Lipič had the first five years of working experience behind him and he was a conscientious follower of Hippocratic medicine. He thus understood illness as a natural phenomenon and he ascribed the major influence to external circumstances and diet. These he sensitively described in the book.
In terms of content, it is an unusual and rare book. It directly reflects a physician's work, the state of healthcare, treatment and rehabilitation of patients and prevention of disease at the beginning of the 19th century. It is also possible to infer from the 120 case records the hygiene conditions, dietary customs and educational level of the population, and often also the misery of life.
The noble physician Dr. Lipič was aided in his work by humanity and sensitivity, knowledge and experience, although he had only modest medical instruments and few effective treatments available. A physician's work at that time was thus not just demanding but also thankless; Lipič was often confronted with the distrust of patients and the work of quacks. His work demanded great inventiveness, a love of the patient and commitment to his mission. Dr. Lipič was an exemplar of these virtues.
---
Author

Other authors

Edited by




translated by

Publishing Houses:

Založba ZRC, Znanstveno društvo za zgodovino zdravstvene kulture Slovenije

Publisher

ISBN

978-961-254-001-2 (ZRC SAZU)

978-961-6676-00-7 (Znanstveno društvo za zgodovino zdravstvene kulture Slovenije)

Year

2007

Specifications

paperback 13 × 21 cm 418 pages

E-publications

Permalink