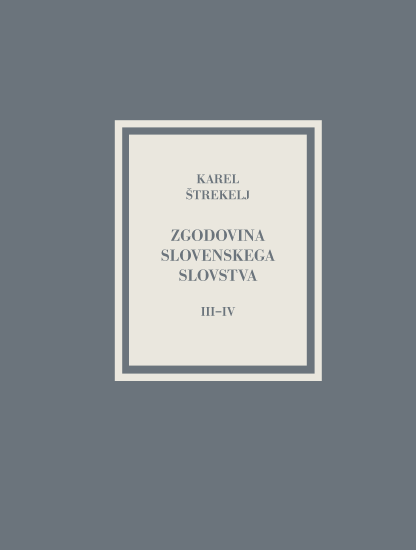 Zgodovina slovenskega slovstva III–IV. Znanstvena izdaja.

Author: Karel Štrekelj
Year: 2014

In the years 1899–1901,Karel Štrekelj (1859–1912) held a course on Slovenian literature at the University of Graz. These are the first university lectures on Slovenian literature in the Slovenian language, published in two volumes. However, Štrekelj's history is more than this: it is a monumental, classically balanced synthesis of all the former knowledge of Slovenian literature, given against rich historical, social, and linguistic backgrounds.
The present book includes volumes three and four of Štrekelj's manuscript in a historically faithful, critical and annotated copy. Štrekelj opens a surprisingly fresh, original view of the era of Prešeren and Bleiweis, as well as the period up to the end of the 19th century, focusing on a series of major and minor figures, some of whom are almost forgotten today. He presents this period, in which there was no lack of disputes and disagreements, from a higher perspective: he attempts to explain each individual in the light of his or her own endeavours in the historical period, and to demonstrate the essence of his or her contribution to Slovenian literature. In so doing, Karel Štrekelj stands high above not only the internal disputes of individual writers in Slovenian literature, but also the ideological battles that later literary historians admitted to their literary histories through wide open doors.
---
Author

Other authors

Edited by




afterword by




index

Publishing House:

Založba ZRC

Co-publishers

Karl-Franzens-Universität Graz; Slovenska akademija znanosti in umetnosti; Institut für Slawistik, Geisteswissenschaftliche Fakultät

ISBN

978-961-254-669-4

Year

2014

Language(s)

Specifications

hardback 16,8 × 24 cm 696 pages

E-publications

08. 09. 2020

Permalink