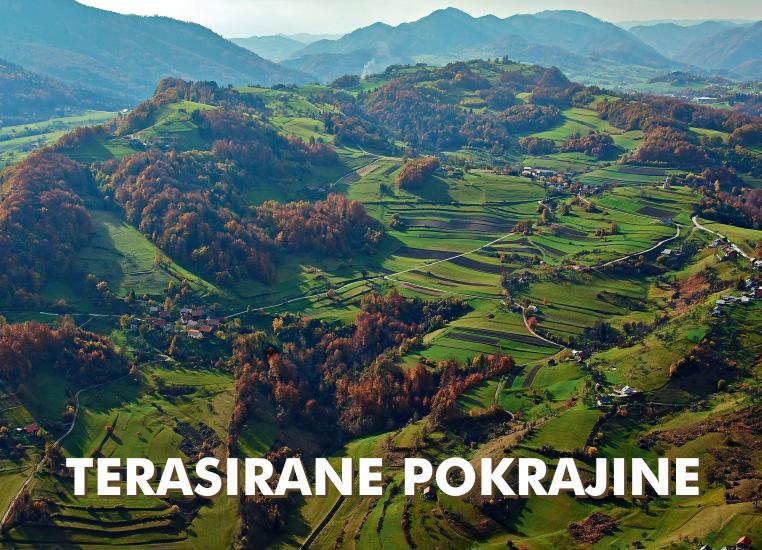 Terasirane pokrajine. Ob sedemdesetletnici Geografskega inštituta Antona Melika ZRC SAZU.

Editor-in-charge: Drago Kladnik
Year: 2016

Terraced landscapes with agricultural terraces are cultural landscapes with a special value. This volume presents them in pictures and words in all their diversity and attractiveness. After discussing the global and European dimensions of terraced landscapes and their agricultural terraces, the volume focuses on Slovenian terraced landscapes; they are discussed separately by landscape types, individual regions, and sample cases in the territory of selected settlements (pilot areas). The conclusion also draws attention to the exceptional value and appeal of non-agricultural terraced landscapes that have been shaped by nature and man.
---
Editor-in-charge

Other authors

Edited by




individual contributions

Manca Volk Bahun

,

David Bole

,

Rok Ciglič

,

Mateja Ferk

,

Jerneja Fridl

,

Matej Gabrovec

,

Primož Gašperič

,

Matjaž Geršič

,

Maruša Goluža

,

Katarina Polajnar Horvat

,

Mateja Šmid Hribar

,

Mauro Hrvatin

,

Drago Kladnik

,

Blaž Komac

,

Jani Kozina

,

Peter Kumer

,

Ivan Kumer

,

Lucija Lapuh

,

Janez Nared

,

Jaka Ortar

,

Miha Pavšek

,

Drago Perko

,

Primož Pipan

,

Marjan Ravbar

,

Peter Repolusk

,

Daniela Ribeiro

,

Petra Rus

,

Aleš Smrekar

,

Jernej Tiran

,

Maja Topole

,

Anja Trobec

,

Mimi Urbanc

,

Mateja Breg Valjavec

,

Nika Razpotnik Visković

,

Matija Zorn

Publishing House:

Založba ZRC

ISBN

978-961-254-889-6

Year

2016

Language(s)

Specifications

hardback 29,7 × 21 cm 240 pages

Versions

E-publications

02. 10. 2020

Permalink