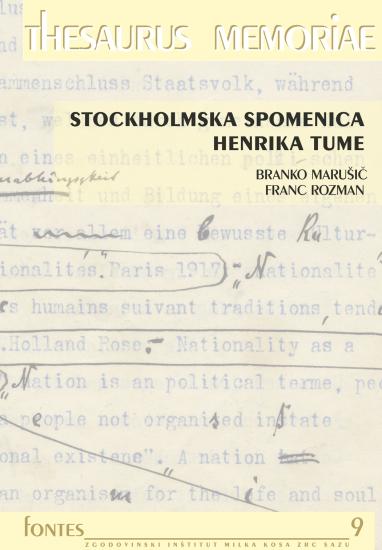 Stockholmska spomenica Henrika Tume. Izjava delegacije Jugoslovanske socialdemokratične stranke za razprave na mirovnem kongresu v Stockholmu
Erklaerung der Delegation der Suedslavischen sozialdemokratischen Partei in den Vorverhandlungen zu dem Friedenskongresse in Stockholm.
Authors: Branko Marušič, Franc Rozman
Year: 2011

In 1917, as the war had drained much of the strength from all warring sides, the Socialist International decided to convene a peace congress in Stockholm. The Yugoslav Social Democratic Party obtained the invitation to attend the congress as well, appointing Dr. Henrik Tuma as its representative. In order to make the attendance of the Slovenian Socialists as effective as possible, Dr. Tuma drew up a special memorandum in German. However, as the conference was prevented by the opposition of the Socialist parties from the Entente states, the memorandum did not have the desired significance and effect.
---
Authors

Publishing House:

Založba ZRC

Publisher

ISBN

978-961-254-350-1

Year

2011

Series

Thesaurus memoriae Fontes 9

Specifications

hardback 20 × 28 cm 124 pages

E-publications

Permalink