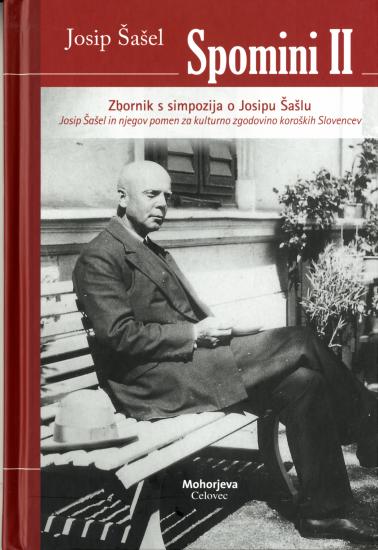 Spomini II. Josip Šašel. Josip Šašel in njegov pomen za kulturno zgodovino koroških Slovencev. Zbornik simpozija o Josipu Šašlu.

Edited by: Monika Kropej, Avguštin Malle, Martina Piko Rustia
Year: 2012

The second part of the Spomini (Memoirs, 'Josip Šašel, Memoirs II. From symposium about Josip Šašel'), which remained unfinished, was written in 1957. Josip Šašel continues his narration by describing how they moved to the castle Humberk, and describes the life in this large estate as he experienced it as a ten-year boy. In the continuation of the "Memoirs", Ljudmila Erič, the daughter of Janez Wieser, Josip's brother, who remained at the home farm, added her own memoirs. She describes his childhood and the fate of his family during World War II. The family tree of Šašel's ancestors, which was created by following his writings back to the 16th century, was complemented by the genealogist Matjaž Blokar.
In the second part of the book are published articles on the life and of Josip Šašel and his work both in the field of folklore and folk law; toponymy, geography and cartography, history, archaeology, linguistics and the dialects of Rož/Rosental. The authors of contributions are: Monika Kropej, Avguštin Malle, Karla Oder, Helena Ložar-Podlogar, Marjeta Šašel Kos, Vlado Nartnik, Martina Piko-Rustia, Marija Makarovič, Zinka Zorko, Peter Weiss, Pavel Apovnik and Drago Samec.
---
Edited by

Publishing House:

Mohorjeva založba

Co-publishers

Institute of Slovenian Ethnology

Slovenski znanstveni inštitut (Celovec); Slovenski narodopisni inštitut in Društvo Urban Jarnik (Celovec)

ISBN

978-3-7086-0715-3

Year

2012

Series

Koroški etnološki zapisi - Supplementa

Language(s)

Specifications

hardback 17 × 23,5 cm 288 pages

Permalink