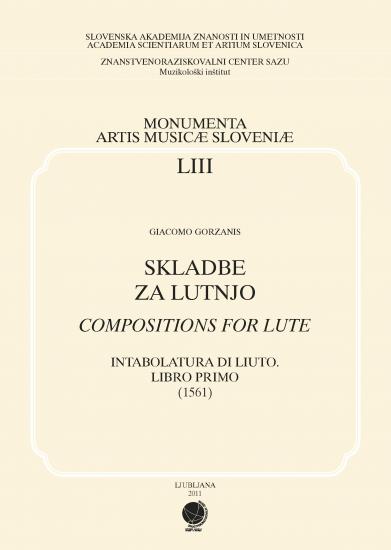 Skladbe za lutnjo. Intabolatura di liuto. Libro primo (1561).
Compositions for Lute. Intabolatura di liuto. Libro primo (1561).

Author: Giacomo Gorzanis
Year: 2011

The second volume of the planned opera omnia by Giacomo Gorzanis (Apulia c. 1520 – Trieste[?] after 1573) contains the composer's first book of lute tablatures dedicated in 1561 by the author to his mighty Carniolan patron Hans Khisl from Kaltenbrunn (Slov. Fužine) near Ljubljana whom by the time he had already known for some time. The collection contains 27 compositions, 22 dance type compositions, one intabulation of a vocal villanella and 4 imitative ricercari. The author of the edition, Dr Alenka Bagarič, contributed her realization of pieces in modren notation in two systems with an added transcription of the original lute tablature above two two sytems, introductory explanations and editorial comments.
---
Author

Other authors

author of the critical edition




Edited by

Publishing House:

Založba ZRC

Co-publishers

Slovenska akademija znanosti in umetnosti

ISMN

979-0-709004-29-4

Year

2011

Series

Specifications

paperback 20 × 28 cm 140 pages

Permalink