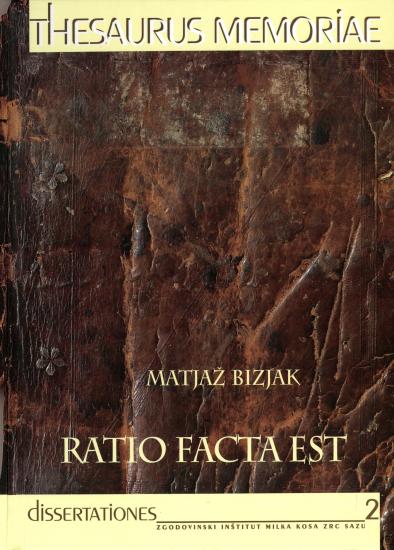 Ratio facta est. Gospodarska struktura in poslovanje poznosrednjeveških gospostev na Slovenskem.

Author: Matjaž Bizjak
Year: 2003

Of economic-organisational forms, we find in late medieval period in a broader space of which part is the territory of the actual Slovenia, land seigniories are the most typical. In the book, we find a systematic study of operation of those "economic plants". In the first part, the author lays the foundations for understanding and dealing with medieval financial documentation (special emphasis is on reviewing medieval measure and monetary systems, price and payment streams, and on bookkeeping techniques). In the second part, the author builds on those data an analysis of the structure and operating of selected seigniories (actually of all on Slovene territory for which appropriate sources have been preserved), makes a comparison between them, and offers upgrades for a synthesis. The seigniories are dealt with in a broader property-administrative-economic context, and the conclusive comparison focuses on short-term and long-term trends of operating, on profitability of different types of properties, and on inclusion of ascertained structures in a wider European space.
The book includes numerous graphic and tabulated presentations, a list of sources and literature, a summary in English language, and a register of place and personal names.
---
Author

Publishing House:

Založba ZRC

Publisher

ISBN

978-961-6358-99-6

Year

2003

Series

Thesaurus memoriae Dissertationes 2

Language(s)

Specifications

hardback 20 × 28 cm 339 pages

E-publications

Permalink