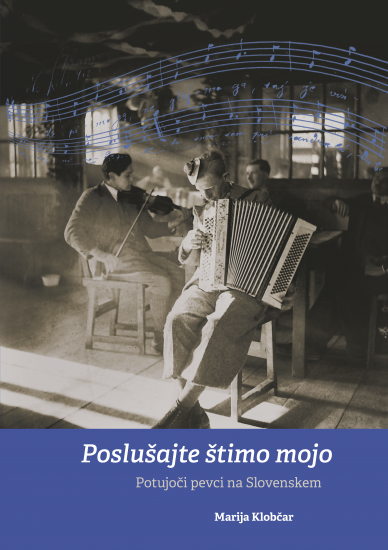 Poslušajte štimo mojo. Potujoči pevci na Slovenskem.

Author: Marija Klobčar
Year: 2022

The monograph ('Listen to My Voice. Itinerant Singers in Slovenia') discusses various groups of itinerant singers in Slovenia in the period spanning from the times of former musicians called igrci to the rise of the radio. It analyses their creativity and observes the changes in their social roles. Critically considering primary sources and unknown or overlooked testimonies, the monograph gives a new view not only on the song creativity but also on the society where it flourished. It looks at the carriers of chivalric culture, which brings to light new findings on the importance of Slovenian language and song creativity in the Middle Ages. Its analyses of communication channels during the rise of printed materials sheds light on the role of Slovenian lands within the broader European framework. Through the research of the itinerant fair singers, the phenomenon itself and the singers' activities, it examines a fairly unknown diverse group of intermediaries between the high culture and the culture of common people in Slovenia, including the mendicant singers. Furthermore, it illuminates the historical background and social role of some narrative songs, broadsides, the development of newspaper information and the effect of the changing transport and communication channels on this kind of creativity. Looking at the folklorisation of songs sung by itinerant singers, the monograph changes the understanding of creators and carriers of folk traditions.
---
Author

Publishing House:

Založba ZRC

Publisher

ISBN

978-961-05-0268-5

Year

2022

Series

Language(s)

Specifications

hardback 17 × 24 cm 335 pages

Versions

Permalink