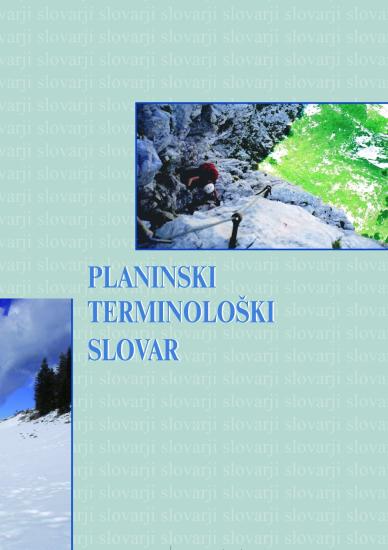 Planinski terminološki slovar. Slovensko-angleško-nemško-francosko-italijanski slovar planinskega, alpinističnega, plezalskega izrazja.

Edited by: Marjeta Humar
Year: 2002

A Dictionary of Mountaineering Terminology is a normative explanatory dictionary in five languages. It contains 3615 terms used by mountaineers, alpinists, expedition members, mountain rescuers and mountain guides. English, German, French and Italian equivalents of the Slovenian terms enable international communication. The dictionary was compiled by a committee of experts from various generations and branches of science (A. Mlač, S. Klinar, B. Leskošek, B. Pollak, F. Savenc, P. Šegula, A. Vengust, S. B. Zupet), headed by the specialist lexicologist M. Humar.
---
Edited by

Other authors

glossary entries

Publishing House:

Založba ZRC

ISBN

961-6358-68-5

Year

2002

Series

Specifications

hardback 18 × 25 cm 456 pages

E-publications

23. 05. 2022

Database Terminologišče (2013)
ISBN 978-961-254-471-3

Permalink