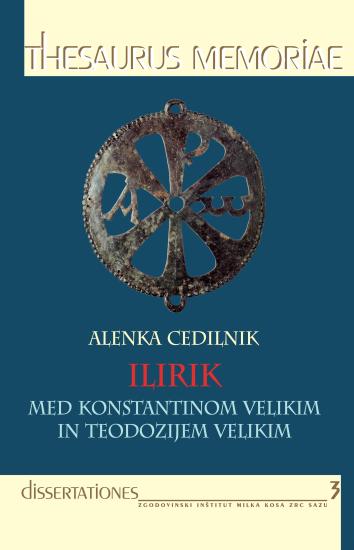 Ilirik med Konstantinom Velikim in Teodozijem Velikim. Balkansko-podonavski prostor v poročilih Atanazija, Hilarija, Sokrata Sholastika, Sozomena, Teodoreta in Filostorgija.

Author: Alenka Cedilnik
Year: 2004

The book, together with the accompanying translation and necessary commentary, presents excerpts from the selected works of six ecclesiastical writers from Late Antiquity between the fourth and the first half of the fifth century (Hilary of Poitiers, Athanasius of Alexandria, Socrates Scholasticus, Sozomen, Theodoret and Philostorgius) which convey an image of the past of the ancient Illyricum in the period from Emperor Constantine the Great to Emperor Theodosius I. Given the particular vastness of Hilary's, Athanasius' and Theodoret's opuses, the discussion draws only on their selected works. Since the said writers were especially interested in the history of the Church (with a primary emphasis on the then burning Aryan Controversy), the said theme is also covered in this book. Owing to the close interconnectedness between ecclesiastical and profane history, the book also highlights some important military and political developments which the presented authors could not completely ignore in their presentation of the past, precisely for the reason mentioned above.
---
Author

Publishing House:

Založba ZRC

Publisher

ISBN

978-961-6500-22-7

Year

2004

Series

Thesaurus memoriae Dissertationes 3

Language(s)

Specifications

hardback 20 × 28 cm 388 pages

E-publications

Permalink