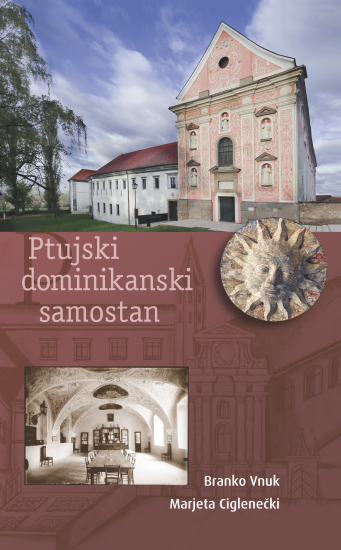 Ptujski dominikanski samostan.
Authors: Marjeta Ciglenečki, Branko Vnuk
Publishing House: Založba ZRC
Year: 2018

In the booklet, Dr. Branko Vnuk, a curator at the Regional Museum Ptuj – Ormož, and Dr. Marjeta Ciglenečki, a retired professor at the Department of Art History of the Faculty of Arts, University of Maribor, and moreover, an indefatigable guardian and promoter of Ptuj's cultural heritage, dedicated their attention to one of the central monuments not only in Ptuj but in Slovenia in general. Since its foundation in 1230, the Dominican Monastery had been a spiritual and cultural centre for 555 years, and with its architecture, frescoes and other artworks that were commissioned in the Middle Ages and Baroque, it remains the focus of art historical research and tourism marketing even today. The "renovation project" presented the city and its monument protection in a certain light, owing to which the commitment of the authors to turn the attention of visitors from inadequate interventions towards an incredible history and artistic qualities of the Dominican Monastery, is incredibly commendable.
---
Authors

Publishing House

Založba ZRC

Publisher

ISBN

978-961-05-0141-1

Year

2018

Series

Language(s)

Specifications

paperback 21 × 13 cm 76 pages

Permalink