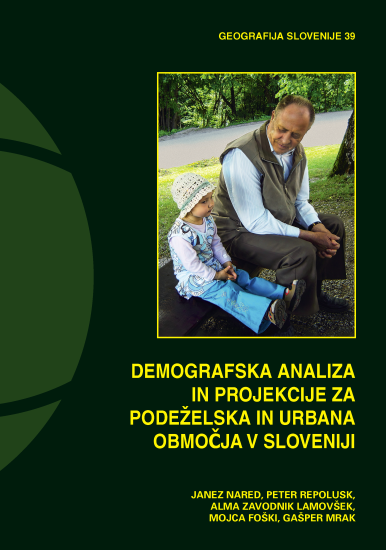 Demografska analiza in projekcije za podeželska in urbana območja v Sloveniji
Edited by: Janez Nared
Year: 2023

The book (' Demographic analysis and projections for rural and urban areas in Slovenia') examines demographic development in the statistical regions of Slovenia. First, we formed the demographic settlement types of the municipalities. These types later helped us in the internal division of the regions into demographically homogeneous areas, which formed the basic unit for calculating demographic projections.
Based on the 2018 data, we made demographic projections for the years 2023, 2028, 2033, and 2038 for the demographic settlement types of the municipalities, for the statistical regions by demographically homogeneous areas, for the whole country, and for the disadvantaged border areas.
Demographic analyses show the continuation of population density in the Central Slovenia statistical region and along the greater part of the highway intersection, as well as a decrease in the number of inhabitants in individual towns and extensive border areas. Thus, in spatial and structural terms, predictions made decades ago, when the authors began to point out the demographic threat to Slovenia and the expected spatial consequences of demographic changes, are coming true.
We have compared the obtained results with various studies, and in the end, we have also presented a proposal for measures to improve the demographic picture and guidelines for the preparation of professional bases in the field of demography for the preparation of regional spatial plans.
---
Edited by

Publishing House:

Založba ZRC

ISBN

978-961-05-0724-6

Year

2023

Series

Language(s)

Specifications

hardback 17 × 24 cm 172 pages

E-publications

26. 04. 2023

Permalink