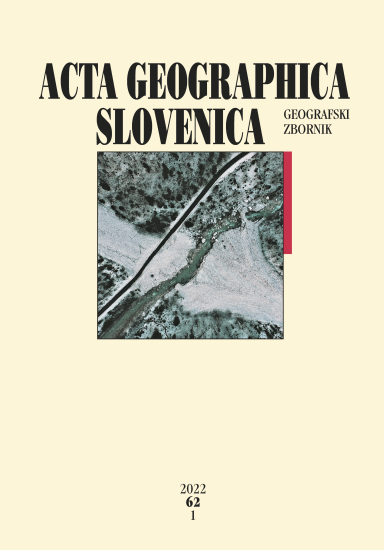 Acta geographica Slovenica.
Geografski zbornik.
Period: since 1952

Acta geographica Slovenica or Geografski zbornik is the main Slovenian geography journal issued by the ZRC SAZU Anton Melik Geographical Institute. Until 1976, the journal was published periodically, then once a year, from 2003 twice a year and from 2019 three times a year. Initially it was called Geografski zbornik / Acta geographica, but the name was changed in 2002, when it merged with the journal Geographica Slovenica (which was published from 1972 to 2002). The online version of the journal has been available since 1995. The journal publishes scientific articles in all areas of geography and related disciplines. Since 1981 the journal has been included in Scopus, and since 2003 in Science Citation Index Expanded. It is one of the Slovenian scholarly journals most cited abroad.
The journal was published by the Slovenian Academy of Sciences and Arts (SAZU) until 1994, and by the Založba ZRC (ZRC Publishing) from 1995 to 2002. Since 2003, it has been published by the Založba ZRC and copublished by SAZU.
Paper submission
Internet: ags.zrc-sazu.si
---
Editorship

Drago Perko (executive editor)

Publishing Houses:

Založba ZRC, Slovenska akademija znanosti in umetnosti

Publisher

Period

since 1952

Annual numbers

3

ISSN (electronic edition)

1581-8314

ISSN

1581-6613

Specifications

paperback 16,5 × 23,5 cm

Home page

Permalink
titles
---
---